Last night, the New York football Giants played the New England Patriots in Super Bowl XLVI (that's 46). The G-Men won.
Whoooooooooooooo!!!
Now I understand that most of you are not lucky enough to have had your team in the Super Bowl, so you might have not watched the Super Bowl with as much attention to detail as I did. Who knows, maybe you got a little too wasted and missed a few things. I'm looking at you Jets fans.
Four and a half things you might have missed:
1. M.I.A. flips off America. While Madonna kept opening up her legs and reminding everyone in Middle America how awkward it can get when someone your mom's age is dancing suggestively, M.I.A. was doing what she does best — being a huge cunt. Way to derail your mainstream pop music career.
2. Wes Welker grows a porno-stache. It did not help him catch any better. No matter what people may say about the mythical abilities of mustaches, they don't help you catch more footballs. Nor do they add inches to your body.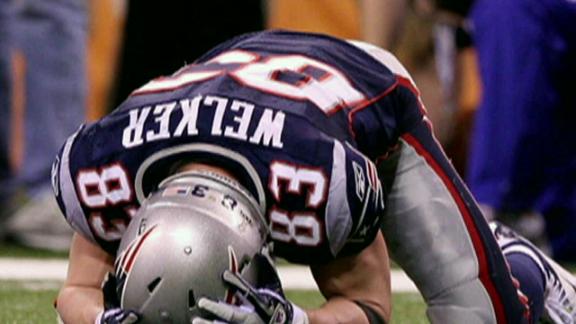 3. Eli Manning may be Super Bowl MVP, but Jake Ballard wins everything else. There are very few players in the NFL that everyone respects. Jake Ballard, while making a name for himself in the first Patriots-Giants game this season, is a player everyone can gather around and cheer on. Mostly because he's got a set of brass balls that probably weigh as much as your head. Here is Jake Ballard attempting to get back in the game after suffering a knee sprain. He never did get back in the game, but it wasn't from lack of trying.
4. Ahmad Bradshaw scored a rushing touchdown. Ass first. From now on all touchdowns should be scored exactly like this.
4½. I Was In A Super Bowl Commercial. Check out the 49ers fan.