Last night, CNN aired what promises to be the first, and twenlfth, of many more ridiculously stupid debates amongst the many ridiculously stupid Republican 2012 candidates. Woot.
The debate focused primarily on national security and foreign policy. Most of the candidates failed miserably — because when put together, they share half a brain. If these bozos are the best the G.O.P. can trot out come 2012, well then, Republicans are as dumb as they sound. In between the harping, the hemming and hawing, and the flip-flopping, I came up with a cheat sheet to help me keep track of just who the hell I was watching.
GOP Candidates for 2012
1. Newt Gingrich         
Former Speaker of The House and the clear leader after last night's debate considering he sounded the most polished and coherent out of all the possible candidates (which looks to be pretty easy). His "humane" stance on immigrants will draw some ire, but he's got the right approach. Just sit quietly and say something smart when called upon — a strategy that worked wonders throughout my school years. I've honestly got nothing bad to say about him. Not even his name bothers me… Okay, if there's one thing I can pick at it's gotta be his weight. We can't have a pudgy faced President. No sir, time to put down the Butterfingers and hit the elliptical, chubbs.
2. Herman Cain          
A businessman from Georgia who made his name and fortune by building a vast pizza empire in the Midwest, Herman Cain knows how to make money by selling what I assume to be terrible pizza. He shot up through the polls and by mid-October was the lead nominee, but a swath of sexual harassment charges and continually poor showings in televised debates have slowed his roll. You'd think someone who has the talent to sing like an angel would be better equipped to argue with idiots.
3. Michele Bachmann         
God, is this bitch annoying. She might be smarter than Sarah Palin, but only by a smidgen. And she doesn't have the redeeming quality of sexy glasses to save her. I can't even watch this trick on mute! She's dumb and very confrontational. Notice how fast she was ready to jump down Romney's throat or into Huntman's pants. She's got no shame, which kind of explains why she's slipping in the polls. Also doesn't help that she wants to bomb the entire Middle East, starting with Pakistan and Iran. When will Republicans learn that they should leave the talking to the men?
4. Rick Santorum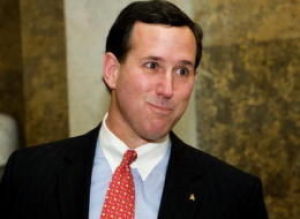 Google his name. Then remember he hates immigrants and supports racial profiling. Google his name again. Then laugh because he hates gays. Those gays, they're a spiteful bunch aren't they?